Holiday Budgeting Tips To Help Keep More Cash In Your Wallet
|
Last Updated on August 1, 2020
Commercials begging you to buy are already running.
Jolly music is playing in the stores.
Black Friday "deals" are already grabbing your attention.
Yep, the holidays are fast approaching.
So before you become hypnotized, let's talk about planning for this upcoming annual blitz on your wallet.
Holiday Budgeting Tips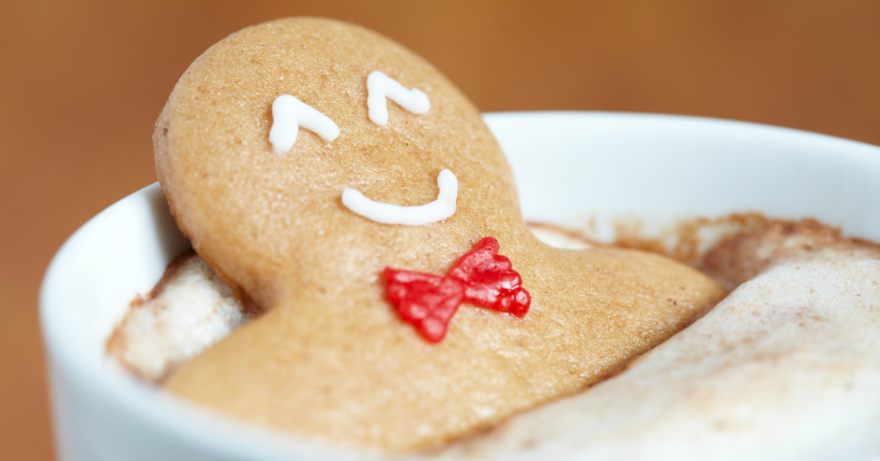 Make a List, and Check It Twice
It's hard to argue the power of making lists.
They work wonders if you're trying to control grocery spending.
Having problems getting things done? They can help with that too.
Know where else they can help? Budgeting for the holidays.
To help plan your holiday shopping, make a list of everyone you need to buy for, how much you're going to spend, and what you're thinking about buying.
To make things easy, I created a FREE spreadsheet to help you create your list and stay on budget. Click here to get instant access. Your email address is NOT required.
Here's a snapshot of what it looks like: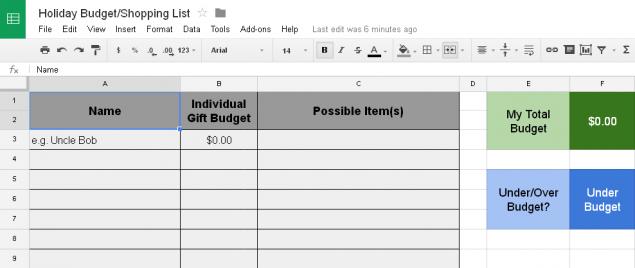 In the spreadsheet, you'll first want to enter your total gift budget in the dark green box.
After you get that in there, start adding the names of people that you need to buy gifts for, how much you want to spend on them, and possible gift ideas.
As you add individual gift budgets, you'll be able to see if you are still under your total budget.
In fact, the second you go over your set budget, the dark blue box will read "Over Budget".
You'll then know some adjustments need to be made.
Once you're done, print it out, grab your budgeted cash (see "Stick With Cash" below) and hit the stores!
Stick With Cash
Hopefully, you've already prepared financially for the holidays.
If so, your savings are ready to be strategically deployed.
When using your savings to shop this holiday season, try only using cash.
Cash can help you stay on budget and avoid impulse purchases.
In fact, I recommend leaving all other forms of payment at home.
Forcing yourself to use only the cash in your pocket means there's a 100% chance your debt won't increase and your budget won't get busted.
If you haven't prepared financially, you're going to have some tough choices ahead.
Your first choice is to save as much as possible over the next few weeks and have that amount be your budget for shopping.
To bulk up your savings, consider selling some stuff around the house.
If you can't save much between now and then, you need to scale back this year.
Taking on additional debt and saying, "Well, I'll just start my new financial plan in the New Year" is dangerous. It's a cop-out.
If you really want to fix your financial problems, you have to start today.
Take responsibility now. Your future self will thank you.
Shop For Deals
People LOVE shopping for deals.
Is it the thrill of the hunt?
Is it the dollars saved?
Regardless of the reason, you always need to be on the lookout for savings.
Check the weekly ad from your favorite store.
If you're buying online, see if you can get cash back using Rakuten.
Then, see if you can find a coupon on RetailMeNot.
If you're looking to get your recipient an experience, try Groupon.
Once you find what you're looking, I want you to remember this:
When you score a deal, there's nothing wrong with using the full retail price in your budget calculation and pocketing the savings.
In other words, if you planned to spend $250 on your parents and bought them a camera that retails for $249 but happened to be on sale for $149, there's nothing wrong with saying "they're done".
Sure, maybe you can buy them a bag or something else for it, but don't feel pressured to buy more stuff just to spend $250.
You got the discount because you worked hard and there's nothing wrong with saving the difference.
Honestly, unless you blab about the deal on social media, the recipient will think you spent full retail price.
Avoid Impulse Shopping
Unlike shopping for birthday gifts, the temptation to buy holiday gifts lasts for several weeks.
Just when you think you're done, you find something and say, "That would be perfect for Henry!"
To help with these temptations, stick with the budget you set and deploy some of these tips.
In fact, you could skip shopping altogether and make your gift by hand.
Buying For Kids
If you're facing a tight budget and have been liberal with your gift spending in the past, here's one of those tough choices:
"How do I buy for the kids?"
The answer is simple: you buy them less.
However, you shouldn't buy them less and say, "It's just because I said so."
Use the reduction of gifts as a teachable moment.
Explain to them why they'll be receiving fewer gifts and be honest.
Teach them to be grateful for what they have.
Have them start budgeting their own money for the things they want.
You'll be providing them with amazing life lessons and I guarantee they'll be much more appreciative later in life if you lead by example.
When it comes to shopping for them, try and employ the "Want, Need, Wear, Read" philosophy.
Buy them something they want, something they need, something to wear, and something to read.
You may even want to provide them something to donate and teach them about giving.
Keep the gifts to one in each category and you'll find yourself spending less this holiday season.
* * * * *
Hopefully, you've found some holiday budgeting tips you can implement to help make this time of the year a little less stressful for you, your family, and your finances.
Now get out there and take care of your money, so it can take care of you later.
Your financial coach,