Learn How To Coupon and Avoid The Mistakes
|
Last Updated on January 31, 2021
So you want to learn how to coupon. I'm sure it's because you want to reduce your grocery expenses.
For some weird reason, couponing is the first thing that comes to mind when most people think about ways to cut expenses. I blame shows like Extreme Couponing for promoting an unrealistic representation of the benefits and work involved in couponing.
Using coupons shouldn't be the first thing you do when trying to reduce your expenses. It takes a significant amount of work and will most likely only save you a few bucks. Even if you end up saving a decent amount of money, would you have purchased the items without a coupon?
If you're looking to reduce your expenses, you first need to focus on the major items in your budget. Items that can save you more than $25/hr by simply making a phone call or shopping around.
Some major expenses you should try to reduce before thinking about couponing include cell phone plans, insurance policies, cable bills, car expenses, and your mortgage.
After you've reduced all your major expenses, you can put your time and energy toward saving even more money with coupons.
Coupons = Marketing
Before you learn how to start couponing and get caught up in the excitement of saving, you should be aware that coupons are part of a very clever marketing strategy.
Brands don't provide you coupons because they care about you. They provide coupons to get you to buy items you wouldn't normally buy.
You didn't know you needed that box of granola bars until you got that 50¢ off coupon in the mail. If you use coupons to buy things that aren't in your budget, you're still wasting money.
Brands and stores don't just want to get you to try their products, they want you to keep coming back for more.
Cheerios sends you a coupon because they want you to create a habit of buying their cereal so that when they stop providing a coupon (and they will!) you'll still buy it.
And Walmart provides you with a coupon for Campbell's soup to get you into the store. They know that once you're there you're likely to buy other things. You always do, right?
Other stores give you coupons to get you to come back to spend more money later. Kohl's is especially good at using this strategy.
For example, they may give you a 50% off coupon for your next purchase. But it'll only be valid for a short period of time and you'll need to spend a minimum amount. This type of coupon compels you to come back to the store sooner than you would otherwise. In reality, you're not saving money — you're spending more. You're going to be buying something that wasn't planned for.
Other tactics stores use is to provide you coupons and automatic discounts when you join their loyalty program. Krogers charges less on some of their products to customers with a reward card. And Target tries to get you to sign up for their Redcard with a 5% discount on all your purchases.
Even though loyalty programs can save you money, you should be aware that your reward card will also be used to track your spending patterns. The more information a company has about you, the better they can customize their marketing towards you.
Is Couponing Worth It? Only If…
You Use Them for Budgeted Expenses
When you use coupons, the thrill of saving money may tempt you to buy things you don't need. It's why you see people on the Extreme Couponing show with garages full of diapers and zero children.
But you should only use coupons and discount codes for things you already planned to buy and that you'll use in the next few months. If you use them for things that aren't in your budget you're not saving, you're spending more.
For example, if you use a 50% off coupon on something you hadn't planned to buy, you're still paying 50% of the price.
You Don't Spend All Your Time Looking For Coupons
Time is a valuable asset. You can use it to work, study, build your own business, or relax with your family and friends.
When you obsess about looking for coupons, you may be losing more than you're saving — in time, work, energy, and money.
Don't take couponing to the extreme. Think about what's more important to you and use some of the tips and apps in the next sections to learn how to start couponing more efficiently.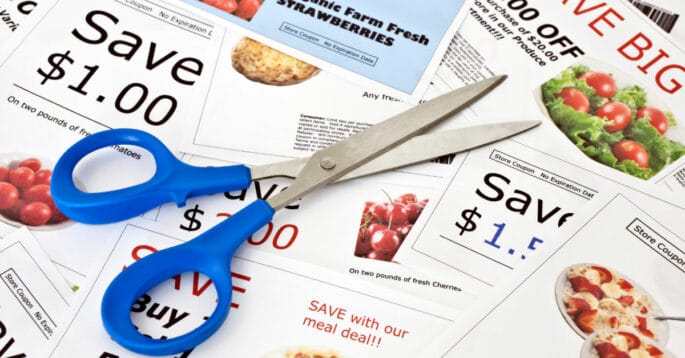 Learn How To Coupon Efficiently
Store vs. Manufacturer Coupons
There are two types of coupons: store coupons and manufacturer coupons. You can usually use both on the same item to save even more.
"One coupon per purchase" only means per item. You can use several of the same coupon on different items. You just can't use the same type of coupon multiples times on one item.
For example, if you have 10 coupons for the same tuna, you can use one coupon per can of tuna for a total of 10 cans of tuna. You just can't use all 10 coupons on a single can of tuna.
Read Coupons Carefully
When using coupons, always read the conditions in the fine print.
Don't focus on the image on the coupon — read the coupon carefully to see what items you can purchase with it. When the coupon is valid for several items, the company usually puts the most expensive item in the image. And coupons are usually only valid for certain sizes of a product.
If you go by the image only, you may end up grabbing the wrong item and paying full price for it.
You should also read the coupon conditions carefully to find out if it qualifies to be doubled, tripled, and/or stacked.
Double and Triple Coupons
Some stores will double or even triple the face value of coupons on certain days and up to a certain amount.
For example, if you have a coupon for $0.50 off on a gallon of milk, the store may double the discount to $1.00 for the first 4 gallons you buy on a Tuesday.
The best way to find if your local grocery stores double or triple coupons is to ask about their coupon policy at the customer service desk.
To save more money, you can plan your grocery trips on the days your local stores double or triple coupons. But make sure to read the coupon terms to see if it qualifies for this discount.
Forgot a Coupon? Ask If You Can Bring It Later
If you forget a coupon at home, you can always ask if you can still get the discount by bringing it back with your receipt the next time you come in, even if it's expired by then.
I've forgotten coupons on a number of occasions. I just bring in my receipt and the coupons the next week, and the store gives me a refund. Just don't be afraid to ask. The worst thing that can happen is that they say no. And if they agree, you can save money.
Take Advantage of Price Matching
Some grocery stores have a price match policy. If you find an item on sale at a different store and bring prove (like the weekly ads), they'll match that price.
Find out if any of your local stores have a price match policy and take advantage of it. You'll save time and gas not driving from store to store to get the best deals for different items.
Stack Deals to Save Even More
Stacking is a term used when "layering" multiple offers on top of each other.
For example, you can buy a bag of rice on sale that has a rebate and use a manufacturer coupon plus a store coupon. You can get all of those savings on a single item.
Just make sure to check the store's coupon policy and the coupon's terms and conditions to see if they allow stacking.
Always Check Store Policies
Each store has different policies about using coupons. You'll want to find the store with the best coupon policy so that you can maximize your savings.
For example, Target only allows you to use four identical coupons per day. If you want to use more, you may want to find a store that doesn't have a limit.
Where to Find the Best Coupons and Deals
Best Coupons For Food
Apps are a good way to find coupons, cashback offers, and weekly sales. Some of the best ones are:
Coupons.com lets you print coupons or load them to your reward card.
Local newspapers often contain coupons from Redplum, SmartSource, and Proctor and Gamble. If you don't get them, you can ask your family and friends to give you the coupons they don't need.
Magazines like Red Book and Good Housekeeping also have coupons in them.
Store discount cards are one of the best ways to save money. They'll track your purchases, but they're worth it.
Sometimes you'll also find coupons directly on the product or next to the product in the store.
Best Coupons For Restaurants
The restaurant's website and social media is the first place where you should look for coupons and discounts. You could also sign up for their email list, because they'll send you coupons and may even give you free items on your birthday.
Groupon lets you purchase coupons for 50-90% off at local restaurants. But before you purchase a deal, you should check out the restaurant's menu. Some of my clients have gotten a deal only to find out that each meal was $50 or they had to spend a certain amount of money to use the coupon. They ended up spending way more than they wanted.
Restaurant.com is a good place to buy certificates for restaurants at a discount. You might also want to check out the restaurant's menu before buying anything.
You can also use apps to get discounts at restaurants. Open Table gives you points that can be redeemed for cash when you use it to make reservations. And Coupon Sherpa finds coupons for chain restaurants in your area.
Best Coupons For Clothing and Household Items
Rakuten gives you cashback when you shop online or link your rewards card.
RetailMeNot provides coupon codes and their app also lets you redeem offers in stores.
Sometimes companies will give you a discount on your first purchase if you sign up for their email list, follow them on social media, or visit their website.
Browser extensions help you find online coupons and promo codes for every website you visit. Some of the best ones are Piggy, CouponCabin's Sidekick, Honey, InvisibleHand, and The Camelizer.
Combine Couponing with Other Good Habits
Find The Best Price
You can compare prices across stores without driving around and wasting gas by using some of the websites and apps mentioned in the previous section.
When shopping online, you can find the best price by using Google shopping. It compares prices across many websites and allows you to narrow down your search with filters.
If you find a great sale at a chain store, you can make your purchase online and pick it up at a nearby location without having to pay for shipping. This way you can take advantage of sales when you don't have time to drive to the store or use online promo codes to save more money.
Ask For a Discount
If you're dealing with a small business, it doesn't hurt to ask for a discount. You won't lose anything and the worst that can happen is that they say no.
Small businesses want your money. If you tell them that you've found a better price somewhere else, they may be willing to match the price or give you a discount.
They may also be willing to provide a discount if you pay in cash. You're technically saving them money because they have to pay processing fees for each card transaction.
Buy With Longevity in Mind
You can buy generic brands of some products to save money. But for other products, you should consider putting quality above price.
For example, you should invest in a good quality mattress. You'll use it every night. A cheap mattress might hurt your back and cost you more on medical expenses.
Other items you should consider spending more money on include kitchen knives, a good work wardrobe, etc. In the long run, you'll be saving money because you won't have to replace them as often.
Combine Coupons With Sales to Save Even More
You won't always find coupons for the things you need. Sales save you money without having to find and carry dozens of coupons.
You can use sites like Coupon Mom to find deals at your local stores. Apps like Flipp and Favada also help you to compare prices across different stores without driving around.
Don't Fall For The Tricks Some Brands Use
Brands use tricks to make their products more appealing to consumers. They spend years and millions of dollars building a name for themselves as the to-go brand.
But their products are usually very similar in quality to the generic brand. Don't let the appeal of a name cost you more money.
Because the quality of food and medicine is regulated by the FDA, you should consider buying the store brand whenever possible. It'll save you money.
If you're worried about flavor, you can try different brands and choose the one that you like the most. Some items for which you should always buy the store brand include rice, flour, sugar, and spices.
Brands will also make their packaging deceiving to get you to choose their product. For example, some cereal boxes look huge but have less product than the smaller store brand boxes.
Instead of going by the size of the packaging, look for the "price per ounce" in the tag on the shelf to get a better idea of which one is a better deal.
Stores may use sale signs to get you to buy more than you need. Did you know that when you see 10 for $10 sales you don't have to buy 10 items to get that price? You can buy only one and still get the sale price (unless the price tag says otherwise).
If you truly want to save money and not be manipulated into buying things you don't need, you need to be aware of the marketing tricks brands use. Once you know them, you can recognize and avoid them.
Try Not to Get Caught Up In The Thrill of Saving
Saving money is great, but try not to get caught up in the excitement.
Don't buy things you don't need just because they're on sale. You don't want to end up with hundreds of packs of diapers and no kids like the people on Extreme Couponing.
Coupons and sales make it easier to spend money on things that you don't need, but you would still be wasting money.
You should only buy things within your budget and stock up on items that you'll use in the next few months. You don't want to buy too much food and let it go bad.
Don't obsess over saving a couple of dollars. Sometimes driving around to find the best deals costs more in time and gas expenses than it's worth it. You can compare prices online and go to stores that are near your house or on the way to work/school.
* * * * *
You don't need to spend all your time couponing to save money.
How to start couponing takes work, time, and energy. Only you can figure out how far you are willing to go to save a few more dollars.
The tips and tools in this article will help you build your own couponing style so that you can save money efficiently.
Now get out there and take care of your money, so it can take care of you later.
Your financial coach,