Is Renting a Waste of Money?
|
Last Updated on April 7, 2022
I bet you've heard that renting instead of buying a home is a waste of money.
You've heard you should invest in a property and build equity instead of throwing your money away on rent. You should buy a house that you can pass down to your family, instead of helping your landlord pay off their mortgage.
But is renting really such a waste of money? Or has the real estate industry been lying to you?
After all, their livelihood depends on selling you houses. Commissions on home sales are what really brings in the money.
But I'm not a real estate agent or a mortgage broker. I don't make any money whether you buy a house or not.
I'm just here to give you an unbiased answer to the question, "Is renting a waste of money?"
The short answer is "No!" Renting isn't a waste of money because it gives you a lot of life and career flexibility, it facilitates access to numerous amenities and convenience, and it may save you money and stress.
Now, let's take a closer look at whether you should buy or rent a house.
Why Renting Isn't a Waste of Money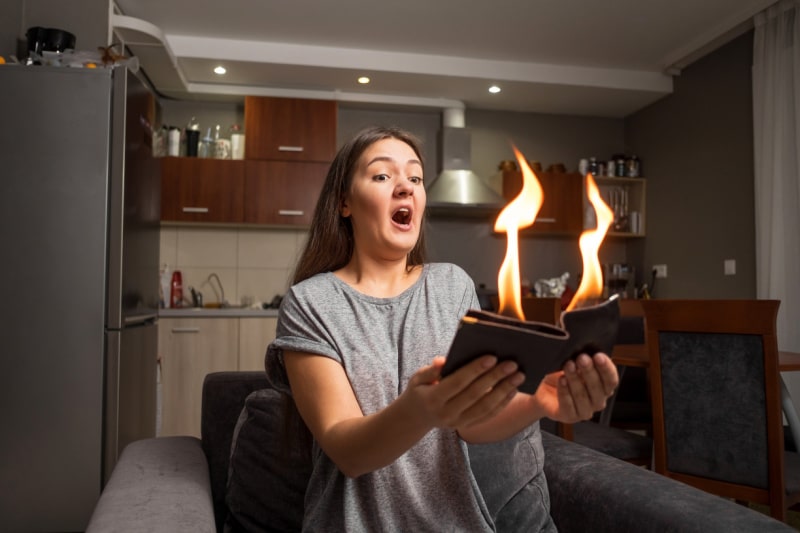 Renting Gives You Access to a Range of Amenities
A lot of traditional apartment complexes provide access to on-site amenities, such as a gym or fitness center, a pool, laundry facilities, outdoor entertainment spaces, and 24/7 security monitoring.
Buying a home with or equipping it with luxuries such as a pool, a home gym, or a security system may be out of your budget. These items pose a large upfront expense and require significant ongoing maintenance.
When renting, these amenities may be free or come at an additional cost, but they are definitely more affordable than buying them for your own home.
You Can Get Closer to the Conveniences of the City
Do you want to enjoy the conveniences of living in the city center? You should consider renting instead of buying a home.
If you have an active social life, you will want to be closer to popular restaurants, cultural events, museums, trendy nightclubs, and other sources of entertainment.
Renting an apartment or a house in the city center is much more affordable than buying a home in the same neighborhood. For example, the monthly rent for an apartment in Downtown District 8, the most popular neighborhood in San Francisco, costs $2,620 on average. Whereas, the average sale price for a home in San Francisco is around $1.2M, resulting in a monthly mortgage payment of $4,370.
Renting Makes You More Flexible
Renting gives you the freedom to change your address to fit your lifestyle and needs.
If you buy a home, you better be 100 percent sure that you like the neighborhood because you'll be stuck in it for the next few years.
With each passing year, your age might not be the only thing that changes. Being close to the vibrant nightlife scenes or steps away from the beach may be your current priority as a young professional.
But in a couple of years, you may want to go back to a home in a quiet neighborhood, where you can relax after a long day at work.
And if you have kids, or are planning to have kids, you should research the school district thoroughly. Your zip code will determine your access to good schools and high-quality education for your children.
You might find a home that seems like a great deal. But if you're not careful, you may move into a school district that is underfunded, with schools that can't provide strong educational support for your children.
So buying a home is not a wise choice if you're unsure you want to live in it for at least the next few years. Regaining the initial costs of buying a home, moving in, and selling it again will take time.
Renting Is Better for Your Career
Wanting to take a new and exciting job opportunity? You're more likely to take that opportunity if all you need to do is move out of your apartment and possibly pay a fee for breaking the lease.
But if you own a home, things become more complicated. Since you've invested a large sum of money in a house, you're tied to a specific location for the foreseeable future.
The hassle of selling a house will most likely deter you from exploring career opportunities that require you to relocate to another region.
Not only do you have to go through the trouble of finding a good real estate agent, but you may also suffer financial losses.
If you've owned the property for a short period of time, you haven't offset the initial costs of buying a home. You will have to pay a 5-6% real estate commission on the sales price on top of other fees. And the pressure of selling the house as soon as possible may drive you to accept a lower offer.
Having a mortgage hanging over your head also forces you to maintain a certain income. So you may miss out on career opportunities that cut your pay but have better long-term benefits. You're also less likely to speak up when you're unhappy at work or complain when you see something that goes against your values for fear of being fired.
If you don't have a clear vision of what your future career path looks like or if you're looking to maximize your income potential, you will benefit from renting.
Owning a Home Comes With a Lot of Hidden Costs
I'd be able to buy a house in cash if I had a dollar for every time I've heard, "The mortgage payment will be the same as my rent. But I'll build equity. So buying is better than renting! Renting is a waste of my money."
People who think this way are unaware of all the additional expenses that come with homeownership.
Your fridge broke down? No hot water to take a shower? If you rent, all you have to do is submit a maintenance request. Management will take care of contacting a plumber or a repairman and paying for the repairs.
But if you own a home, you will be the one fixing it, or making it worse and then paying a professional to fix it.
As a homeowner, you also incur the costs of regular maintenance, like painting, filters for your HVAC, and landscaping. Replacing appliances and household items is another expense that is often overlooked. You can take a look at some of these items in the table below.
| | |
| --- | --- |
| Household Items | Replacement Frequency |
| Refrigerator | 10-15 Years |
| Carpeting | 8-10 Years |
| Central A/C | 10-15 Years |
| Furnace | 15-25 Years |
| Water Heater | 10-15 Years |
| Roof | 20-30 Years |
Source: nachi.org
Most of these items cost thousands of dollars. And they can break down unexpectedly, putting you under a lot of financial stress.
And let's not forget property taxes and homeowner's insurance. Despite the fact that every homeowner must pay for these, many forget to account for them when considering the cost of buying a home.
All of these additional costs eat away at your home's equity. So you can spend years paying down your mortgage to see a measly 1% return per year on your investment. Or even worse, you may see $0 in real appreciation by the time you want to sell.
Renting Is Less Stressful
Owning a home comes with large amounts of stress. You're solely responsible for making sure that your house remains standing up.
Remember those repairs and upgrades we talked about? Finding the funds to pay for them over the years is not the only thing you need to worry about.
You will have to find professional tradesmen you can trust to do a good job. It will take time to look through dozens of ads for plumbers or electricians to find the right one. And you will always worry that you may be getting ripped off because you're unfamiliar with the cost of these services.
Owning a home is also time-consuming. Your weekends will be dedicated to mowing the lawn, cleaning the pool, or power washing the house siding, instead of having lunch with your friends or exploring the city.
Renting will save you a lot of stress by letting the managing agency worry about all of these necessary repairs and upkeep.
Don't Buy a House? Like, Ever?
When Does Buying a Home Make Financial Sense?
So if renting instead of buying has so many benefits, when does it make sense to buy a house?
As mentioned before, buying a home only makes financial sense if you're planning to live in it for at least a few years. So you must know the area well and be sure you want to live there long term. Otherwise, you risk significant financial losses as you won't even recoup the initial buying costs before selling.
You can use a rent vs. buy calculator to analyze when your break-even point may come. The longer you plan to stay in a home, the more financial benefits buying will bring you.
And the best way to minimize the overall cost of buying a home is to put down as large of a down payment as possible.
You should try to aim to put down at least 20%, as this exempts you from paying for private mortgage insurance.
This might be an unrealistic goal if you're buying in an expensive area. But the larger your down payment is, the lower your monthly mortgage will be and the less interest you will pay overall.
If you're tight on funds, I'd suggest 5% as the absolute minimum downpayment.
So if you have a clear vision of what your future looks like and don't plan to make any significant geographical or career changes, you may be a good candidate for homeownership.
Do You Really Know How Much House You Can Afford?
Let's go back to all those hidden costs of buying a home we talked about before.
Remember that you don't only need to pay for the mortgage. You have to pay for maintenance, property taxes, and replacing broken household items.
But that's not all. Make sure you don't neglect your other financial goals!
After accounting for the mortgage payment, will you be able to save enough money for retirement each month? Will you have enough money to save for your children's college fund or for pursuing your interest? Will you have to give up your hobbies or cancel your annual family vacation to afford this house?
If answering "no" to any of these questions makes you anxious about whether buying is the right choice for you, you should check out my course, Buying a Home: From Contemplation to Closing. There, I will help you decide if now is the right time for you to buy a home and what you can likely afford based on your financial goals.
Buying a Home: From Contemplation to Closing Price: $20 An in-depth course covering everything you need to know to buy the home of your dreams.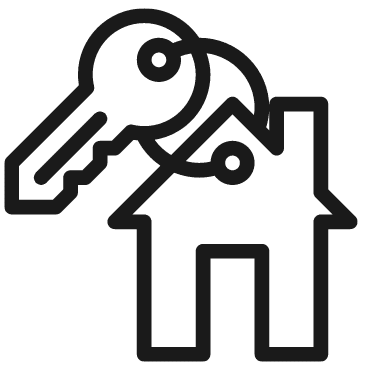 Monthly membership. Cancel at any time.
Buying a Home Will Lower Your Expenses in the Long Run
You should also consider buying a home if you're looking to lower your housing expenses in the long run. After all, one of the major benefits of buying a house is that once you pay off the mortgage, you won't have to worry about it again.
This is a great option if you're thinking about staying in the same house during retirement, as you won't have the burden of rising rent prices on your fixed retirement income.
Just remember that housing expenses do not disappear completely. You will still have to pay for real estate taxes, homeowner's insurance, general maintenance, and wear-and-tear replacement of household items.
The Non-Monetary Benefits of Home Ownership
Money shouldn't be the only factor you consider when buying a home.
Switching from renting to owning your own property comes with a lot of non-monetary perks.
You get to design and remodel your home to suit your specific needs and taste. No more worrying about returning the walls to their original color before you move out of your apartment. You can go crazy and paint each wall a different color (although I don't recommend it) and no one can stop you!
Or you can reconfigure your house to make entertaining your family and friends easier.
A family home may also provide you with plenty of space for your children and/or pets to play and run to their heart's content without worrying about losing your security deposit.
And maybe the most important non-monetary benefit of all. You get to make lasting memories in a home that will see your family grow for years or even generations.
So even if the math doesn't show much of a monetary incentive to buy, buying may have many long-lasting positive effects on your well-being.
So, Should I Buy a House?
"Renting is a waste of money" is the greatest myth in the real estate industry!
Many people will try to pressure you into buying. You need to understand that this is YOUR decision. Only you can determine if buying a home is right for you.
I've had many conversations with clients that thought they wanted to buy a home because other people told them they'd be stupid if they didn't. But after going through the differences between renting and buying, they decided that owning a home wasn't for them, at least not for now.
Now it's your turn to do the work to determine if you're ready to buy a house, or if you even want to.
Now get out there and take care of your money, so it can take care of you later.
Your financial coach,