Dealing With Debt Collection Agencies
|
Last Updated on November 13, 2022
Dealing with debt collection agencies sucks! If you're here, you've likely been contacted by a debt collector recently. It's a very stressful situation, but you can't ignore it.
I'm here to help you make it easier. In this article, I'll teach you about your debt collection rights, how debt collection works, how to validate the accuracy of debt, and how to negotiate the best deal possible. I want you to be able to protect yourself and fight back against shady debt collectors.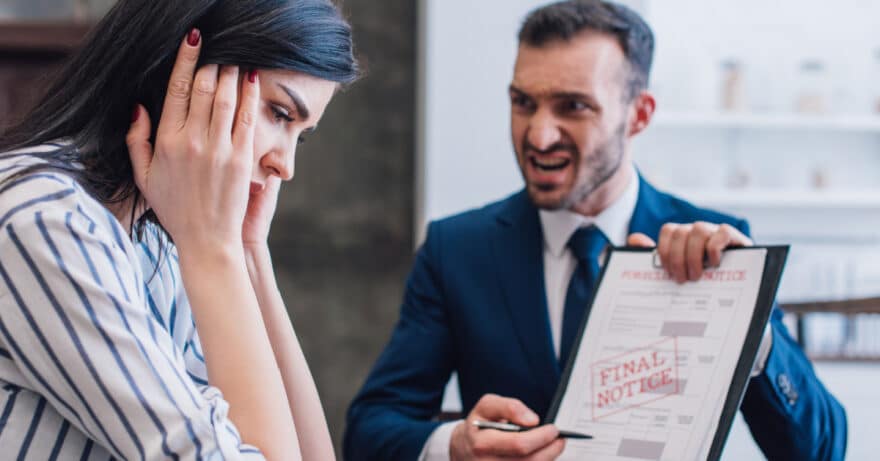 How Does Debt Collection Work?
I know that paying off bills can be difficult. But ignoring them is not a good idea. Regardless of whether you're unable to pay it, you thought you already paid it, or the bill slipped your mind, an unpaid bill will come back to haunt you.
If you miss a bill payment for a few months, it can be sent to a collection agency. According to the CFPB Annual Report for 2021, medical bills account for 58% of the debt in the collection industry. Collection agencies also deal with telecommunications accounts (like your cell phone or cable bill), credit cards, or student loans, among others.
The collection agency's job is to get you to pay off your debt. So they won't stop contacting you until you resolve the matter. To protect yourself, it's important to know your rights and what type of collection agency you're dealing with.
Contract Debt Collectors vs. Debt Buyers
If you're dealing with debt collection agencies, you need to know they operate in two main ways: they either work as contractors for creditors or they buy portfolios of debt.
Collection agencies that are hired by creditors earn a commission on the amount of money they collect from you. So their goal is to get you to pay off as much of the debt as possible.
Meanwhile, collection agencies that buy portfolios of debt buy them for pennies on the dollar. The older the debt, the less collectible it becomes, and the cheaper it will be to buy. The original creditor gets paid a lump sum for the portfolio of debt. And since these agencies buy hundreds of delinquent debts at once, they have many opportunities to turn out a profit.
Debt buying agencies are more likely to agree to a settlement. Even if you only pay a fraction of the debt, they will still make a significant profit.
As you can see, the type of collection agency you're dealing with is important when negotiating payment. So we'll come back to them later in this article.
What Are Your Debt Collecting Rights?
Knowing your rights is the first step toward safely dealing with debt collectors. The Federal Trade Commission, which regulates the debt collection industry, created the Fair Debt Collection Practices Act (FDCPA) to protect consumers from illegal and unjust practices.
The FDCPA outlines your rights and the rules that debt collectors must follow. These rules include the following:
Debt collectors have rules for contacting you. They can only contact you between 8 a.m. and 9 p.m. They can't contact you at work. Social media contact is allowed, but only through private messages.
They can't contact others about your specific debt. They can contact your friends and family to inquire about your location, but they can't reveal that you owe any debt or that they work for a debt collection agency. And they can't harass them by contacting them multiple times.
They can't lie or shame you. They can't lie about the amount or status of your debt, nor can they use obscene or profane language. And they can't shame you by posting about your debt on your social media accounts or publishing your name on a public list of debtors.
They can't threaten or harass you. They can't threaten you with violence, arrest, property liens, or wage garnishment. Property liens and wage garnishment are possible, but they must take you to court first. And if the collector threatens you with arrest, they are likely a scammer. You should report them to the Federal Trade Commission.
They must stop contact if they receive written notice from you. You may request for them to cease communication or send a written refusal to pay the debt. At that point, they can only contact you if they're suing you.
If a debt collection agency violates any of these rules, you should report them to the Federal Trade Commission, the Consumer Financial Protection Bureau, or your state attorneys general.
Can Debt Collectors Sue You?
Collection agencies have the right to sue you to collect your debt. If they win they can garnish your wages, get a property lien or gain access to your bank accounts. But they are limited to a statute of limitations based on state law.
Keep in mind that if the statute of limitations has expired, their lawsuit won't be successful. However, they can still sue you and it will negatively impact your credit.
If you ever receive notification that you're being sued for a debt, DO NOT IGNORE the summons. Most judgments are awarded to creditors, not because they win the case, but because the debtor never shows up to court. So make sure to gather information and respond within the time limit, usually 20 to 30 days from when you receive the notification.
What To Do If a Debt Collector Contacts You
I'm here to teach you how to best deal with debt collectors. Keeping the following advice in mind will help you make good decisions and protect yourself.
Don't Ignore Debt Collectors
When you're contacted by a debt collector, you may want to ignore them and hope they'll go away. That's the worst thing you can do!
You don't need to acknowledge the debt as yours or agree to pay any of it. But you do need to take the call and get as much information as possible from them.
If you need some time to calm down before handling the situation, you can ask them for a callback number. Just don't ignore them. They'll keep calling, and the debt will continue to hurt your credit score.
Get As Much Information From Them As Possible
Don't acknowledge the debt before you have all the facts. Just say that you're not sure if the debt belongs to you and that you need to check your financial records.
First, ask them to identify themselves and provide their name, the debt collection agency's name, the company address, and phone number. You can use this information to verify whether you're dealing with a legitimate collection agency or a scammer.
You should also get the following details about the debt:
The original amount of the debt and any fees, such as interest or collection costs
What the debt is for and when was it first incurred
The name of the original creditor
Whether the debt collector is acting on behalf of the creditor or has purchased the debt from the original creditor
Information about whether someone else may owe the debt
Make sure to get this information in writing before you agree to pay or try to negotiate.
Collectors are required by the FDCPA to send you a verification letter with this information within five days after the initial communication. If they refuse to do so, you should report them to the CFPB.
Pull and Check Your Full Credit Report
After talking to the debt collector, compare their information against your financial records. You should pull your full credit score and check them for the debt and any other collection accounts you might be unaware of. I've seen many clients who thought they had good credit, only to find unknown collection accounts in their credit report.
That's why it's always a good idea to learn how to get your credit report and inspect it for irregularities. You can get it for free every 12 months through the major credit reporting bureaus (Equifax, Experian, and TransUnion).
What to Do If the Debt Doesn't Belong to You or If You Already Paid It
If you have reasons to believe the debt is inaccurate or doesn't belong to you, your best option is to send a debt dispute letter. You have 30 days after receiving written notice of the debt to send a dispute letter, demanding that the collection agency provides proof that you owe the debt. You may also need to send a second dispute letter to the credit bureaus to remove the debt from your credit report.
In your dispute letter, you should include your personal information, the amount of the debt owed, the name of the creditor, and a request to not report the debt to the credit reporting agencies. Check out the additional resources section at the end of this article for links to sample dispute letters. If they're unable to find sufficient information and documents to verify the debt, you can't be held responsible for it.
Provided that they're able to validate the debt, they will send a verification letter.
What to Do If You Owe the Debt
Just in case, you should request a debt validation letter. You want the letter to verify why the debt collector thinks you owe the debt; the amount of the debt; how old the debt is; and whether the debt collector has the authority to collect the debt.
If the debt is past its statute of limitations, the collector can't force you to pay. But you should remember that the debt will still impact your credit score, so you may want to pay it off.
If you owe the debt, you need to brainstorm ways to pay back the debt and clean up your credit as soon as possible.
Don't rush into paying back the collection agency. You need to assess all of your financial responsibilities to avoid getting behind on other bills and debt payments. Creating a budget can help you understand your finances and determine how much money you can put toward debt payments each month.
If you have enough in savings to partially pay off the debt, you can use it to negotiate a settlement. We'll discuss settlements in detail in the next section.
Budgeting For Budget Haters Course Price: $10 Learn the exact steps you need to take to create a budget you'll actually stick with. Get the support you need to follow through.
Monthly membership. Cancel at any time.
Negotiating With Debt Collectors
What do you do now that you've confirmed that you owe the debt?
Try to Negotiate a One-Time Payment
If you have enough funds, you should try to negotiate to settle the debt for less than owed by making a one-time payment.
As we discussed before, many collection agencies buy debt portfolios for pennies on the dollar. So they're willing to settle for a fraction of the original debt. Even if you only pay half of the original amount, they still make a substantial profit.
It's always best to start by making a really low offer and see if they accept it or counteroffer with a different amount.
You should make it seem like your first offer is the best you can do, even if you're able to pay more. And if they come back with a counter amount, tell them that it will be difficult and you need to see if you can scrounge up enough money.
Negotiate a Payment Plan
You'll be able to get a better deal if you can negotiate a one-time payment. But if you don't have the funds, you should work out a payment plan that allows you to tackle the debt.
First, you need to determine how much you can afford to pay monthly. You should consult your monthly budget or create one to aid you.
You can still negotiate with the collection agency to lower the total amount you'll pay to settle the debt. For example, you may owe $2,500, but they may agree to consider the debt settled in full if you pay $50 per month for 24 months. So you'll only end up paying $1,200.
And if your financial circumstances change in the future, you can try to renegotiate a better payment plan or a one-time payment.
Destroy Your Debt Course Price: $10 Stop giving your hard-earned money to other people. Keep it for yourself. Start destroying your debt today!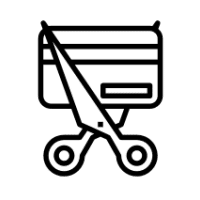 Monthly membership. Cancel at any time.
Try to Get Them to Clean Up Your Credit Report
Once you come to a mutual agreement, try to negotiate the removal of any negative information from your credit report. Credit agencies aren't obligated to do this, but they may agree in order to make you settle. This will be very beneficial because you'll see an immense improvement in your credit score.
Get the Final Payment Agreement in Writing
Before you pay anything, make sure you get a written agreement detailing the settlement amount and conditions. In case they don't hold up their end of the deal, you want to have written evidence. It will also help you fight off future collectors if they try to bring the debt back from the dead as zombie debt.
How to Make Your Payment
When you make your payment, do NOT use a payment method that gives them access to your account information. Don't pay with personal checks, credit or debit cards, or direct deposits.
You should send a cashier check through certified mail so that you can verify they've received it.
Additional Resources For Dealing With Debt Collection
The Consumer Financial Protection Bureau – Check their section on debt collection. They also provide sample letters to correspond with collection agencies, including dispute letters.
The Federal Trade Commission – They also have a robust collection of articles on credit, credit reports, collection accounts, and more.
Your State Attorneys General – They typically have a consumer protection department. And you can learn more about specific debt laws in your state.
* * * * *
The debt collection industry is well-known to use intimidation tactics to get people to pay. If you don't know your rights, you can end up paying money you don't owe or sacrificing your regular living expenses in order to make a payment on a collection account.
Understand that you're in control, you have rights, and you can contact the regulatory agencies if you need help. Don't let the collection agencies intimidate you.
If you get a call from a collection agency, you can always ask for their name, phone number, and the company they work with. Hang up and gather your thoughts before making any moves. It's better to be ready before dealing with them rather than being pressured into a bad deal.
Now get out there and take care of your money, so it can take care of you later.
Your financial coach,